2018年06月20日 NEWS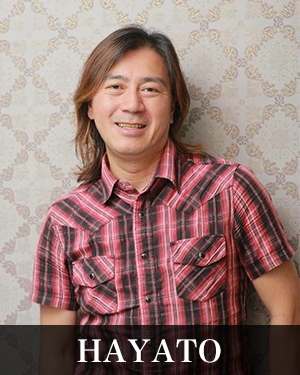 HAYATO SALONS is founded in 1992, the head office in New York, London in United Kingdom, Roppongi in Tokyo, Hakone Kanagawa in Japan a convent garden and a beauty salon.
One of the concepts of HAYATO SALONS is "the pursuit of inner beauty and the outer beauty with its own harmony". HAYATO staff's mission is to smile to the people and to be loved globally. HAYATO BESIDE SALON & ACADEMY (NY, TOKYO) provides a rookie training with a high-quality technology and services to those who aim to be hairdressers around the world by providing a human resource development program and to contribute to international salons.
Stylist working in HAYATO SALONS are bilingual, English and Japanese. They want to be an expert staff who master a compatible technology to any race around the world.
HAYATO has International Development Program, which has been built up for more than 20 years. After receiving the training of technical and language in NY head office and London branch, all staff can work as a stylist. This is an important element in helping to expand globally and making HAYATO SALONS to be loved and supported by customers worldwide. Research and development have its own terms of service.
For example, even after the marriage, women continue working in a high position, not to be inferior by men. Women are more responsible and always spend their days feeling stress. The salon has developed its own shampoo technology as the best relaxation for women. It's an acupressure technique and guidance from the direction of professional Shiatsu plus applied to conventional shampoo method. This service of HAYATO SALONS has developed earlier, which the research was introduced from becoming popular in Japan, it is called Head Spa.
A combination of facial massage removes the swelling of detox and anti-aging effect of the face and to remove the waste and stimulate the head by using head spa shampoo. It always gives a surprising result.
HAYATO SALONS currently aims a total beauty of women and men. Beauty services are offered in London launched in 2010, introduced the Sothys (French) SPA in Japan Hakone shop, and Tokyo store (Roppongi), we do great service. In Hakone, the latest store was opened in April 2014 as an entertainment salon and made a villa that only HAYATO SALONS members can stay. This is to enjoy the space of HAYATO SALONS ultimate hospitality and extraordinary service.
HAYATO ACADEMY has a concept in new brand, which operates the academy to nurture and give experience to hairdresser for five years and aim for another salon experience in the world. Not only in NY office where they gain popularity but also in other as a trainee or a local staff. 
HAYATO SALONS will continue to give the right customer service and satisfaction to the customers by the creative thinking of the hairdressers. To create a natural and simple hair design is one of the concepts since NY branch has founded.
■ADDRESS
〒106-0032 206 The Roppongi Tokyo Plaza, 3-7-1 Roppongi, Minato-ku, Tokyo
■TEL
03-5574-8844
■E-Mail
roppongi@hayatosalons.com
■Business hours
10:00~20:00
■Reservation deadline time
Cut: 19:00
Cut+Perm/Color: 18:00
Cut+Straight/Digital/Keratin:17:00
■Regular holiday
Tuesday
■ADDRESS
〒107-0062 3rd fl. 5-9-3 Minamiaoyama, Minato-ku, Tokyo
■TEL
03-3499-6555
■E-Mail
omotesando@hayatosalons.com
■Business hours
10:00~20:00
■Reservation deadline time
Cut: 19:00
Cut+Perm/Color: 18:00
Cut+Straight/Digital/Keratin:17:00
■Regular holiday
Tuesday
■ADDRESS
〒150-0001 3rd fl. 1-8-25 Jingumae, Shibuya-ku, Tokyo
■TEL
03-6432-9080
■E-Mail
harajuku@hayatosalons.com
■Business hours
10:00~20:00
■Reservation deadline time
Cut: 19:00
Cut+Perm/Color: 18:00
Cut+Straight/Digital/Keratin:17:00
■Regular holiday
Tuesday