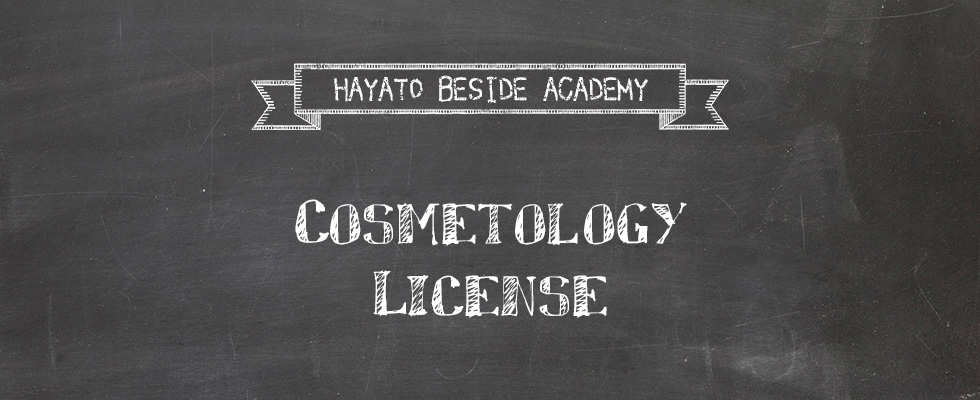 A stylists' license in the United States is called a "cosmetology" license.
This includes many types of beauty care such as hair care, makeup, and nail care.

The cosmetology qualifying examination is carried out by each state of the United States and is divided into an academic section and a practical skill section, just like the Japanese license.
A person who passes both sections and receives a license is called a "cosmetologist."
---
| | |
| --- | --- |
| With this program, you can undergo training to obtain a cosmetology license for the state of New York.  This includes 1000 hours of practical skill training from instructors at our partner school, Hayato BeSide Academy.  After you have passed our official entrance examination, you can take the examination to obtain a New York cosmetology license. | |
---
Term: More than one year
Cost: Determined after consultation based on the length of the term.

【Included in the cost】
Stay expenses, practical skill course fees, license application fees, teaching material fees, school bag, educational texts, practical texts, interpreter fees, orientation fees, set of American beauty tools (scissors, wig, comb, pins, rollers, haircut apron, haircut cape).

【Not included in the cost】
Travel expenses, medical examination expenses, airport pickup
Academic Exam
100 multiple-choice questions in total Usually this test is provided in English, but it is also possible to request Japanese.
*The test date for both English and Japanese will vary based on American holidays.
---
Practical Exam
Using a mannequin, you must demonstrate the following techniques within a set time.

【Techniques to demonstrate】
・ Haircut technique (50 minutes)
・ Blow-dry styling technique (20 minutes)
・ Thermal curling iron technique - Using electric Marcel iron (20 minutes)
・ The roller placement – top of the head (10 minutes)
・ Permanent wave – left side (10 minutes)
・ The diagonal pin curling / C shaping – right side (10 minutes)
・ Finger curling – back of the head (10 minutes)


【Chemical Treatments】
・ Aluminum foil simulation - right front region (15 minutes)
・ Hair color simulation (retouch) - Right rear region (10 minutes)
・ Chemical re-structuring for Virgin hair - left front region / for Retouch - left rear region (25 minutes)
---
Exam Preparation and Schedule (for students coming from Japan)
Two months before exam day
Application for study abroad and exams, application for student visa
One month before exam day
The exam schedule is determined (this is determined by New York state, and you must make travel arrangements in accordance with this schedule).
Travel to the United States
Orientation at the Hayato New York salon after arriving in the United States
During your stay
Morning: English language school
Afternoon: Beauty school
(After 1000 hours of practical skill training, you must take an entrance examination in order to be able to take the New York cosmetology license examination).
Two weeks after the academic exam
Result announcement (This can be found online).
Successful candidate -> Take the practical exam in two months
Unsuccessful candidate -> Retry the academic exam in two weeks
Returning to Japan
Students will return to Japan after completing the practical exam
Testimonial from a graduate who participated in the New York stylist program
This diary was written by Ryuta, who studied abroad for one year in the New York stylist program.
---
Visa application
I was planning on studying abroad immediately after graduating high school. However, collecting the necessary documents took more time than I thought. I ended up getting the visa around the end of May.
My first day in New York
Departure in Japan.
My flight from Japan was delayed for four hours. The airline that I used flew to Newark, New Jersey. An acquaintance picked me up from the airport, and we headed to our shared apartment. I emailed my friends and family in Japan.
My second day
My instructor gave me lots of useful and necessary information. It felt like the beginning of my life in New York.
My fifth day
The orientation started at 9:15 a.m. I managed even though my English wasn't great. The teacher was used to having Japanese students in her class.
My sixth day
Classes started.  There was a teacher who could speak Japanese, and he supported me in various ways.  I felt better as I began to understand things that I hadn't understood before.
After two weeks
I had only studied English in Japan before, so I wasn't sure how things would turn out. I quickly realized that communication and taking the initiative to speak up was very important. They say, "practice makes perfect." I had an international class with students from seven countries.
After nine months
I received a diploma after completing nine months in the class without missing even one day. You can receive this diploma if you pass the final exam. I was recognized as one of the top students in my class.
After graduation
After I graduated, I went back to Japan temporarily. Then, I returned to the United States to obtain the New York cosmetology license. I took the academic portion of the exam in Japanese.