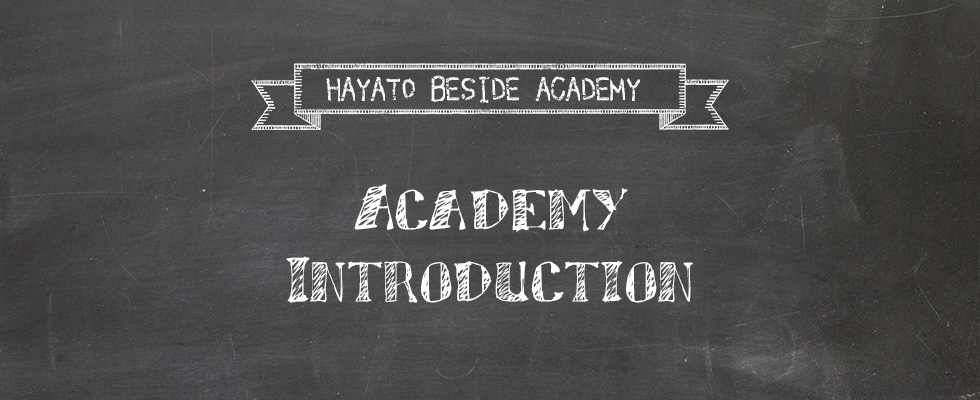 We make the 21st century when many Japanese can play an active part on the stage of the world
The Hayato academy educates more practical New York-style in an object toward the beauty school current students and the graduate or the assistant level and runs upbringing of the Japanese hair stylist used in the world for the first purpose.。
---
The class contents whice can be chosen flexibry
There is an elective class (all 12 times) to attend only standard type to be able to learn the technique that is flexible, and is selectable class contents professional a technique to want to study.
I carry it out as soon as I thought!
I start on Monday.
I promise the high quality coaching by the small number of people system lesson.
---
I learn langage stady and a teachniqe to pass from the world in salon English converstation and practical salon-style
I am in charge of the cause of the instructions of the experienced lecturer, a direct visitor in New York and learn a technique and service.
It enables upbringing of the stylist earlier to have a practical experience.
The practical education is not performed in the beauty school.

In addition, it is reality that the beauty industry has too a long assistant period.
After school graduation, I place this academy as the school to master a higher technique.

In addition, today when a waiting on customers power in English that is a world official language is found for the visitor from the foreign country, I establish the salon English conversation lesson that I put together in the personal pace.

---
HAYATO ACADEMY does HAYATO SALONS (HAYATO BESIDE INTERNATIONAL INC. / head office NY) presenting a hair salon in New York head office / Tokyo Branch / London Branch and 3 world big cities with an administration mother's body and is an academy having you learn a beauty technology to be used abroad for the various places of the beauty school student of the entering a company hope and "and the various places of the thinking Japanese beautician that want to commit a technique of" oneself as a beautician in "that I want to let you improve a skill or" foreign countries from us.
I prepare for a class employing an English conversation class and a foreign model in the curriculum to be able to learn more practically.
In addition, you seem to be able to really experience an overseas salon, and the applicant has the training and the lesson to perform in New York and London salon.
I run upbringing of the high quality Japanese beautician who "can contribute to the world" for the first eyes in network which I cultivated so far and making use of technical know-how and want to make an effort for the position improvement of we Japanese beautician.
---
Profile
1987年
Served as the floor manager of Mr. Ahara's beauty salon located at Roppongi, Tokyo in Japan.
1989年
Left to New York and worked in a Japanese-American salon.
1991年
Opened a private room salon "Hayato Beside".
1992年
Opened his first shop in New York.
1994年
Changed the name of his salon "Hayato New York."
1996年
Opened 2nd branch at Nishiazabu in Tokyo.
1999年
Opened 3rd branch at Aoyama in Tokyo.
2002年
New York branch became 2 floors (2nd & 3rd).
2005年
Opened "Hayato New York Tokyo Branch" that Nishiazabu branch & Aoyama branch were combined together.
Opened "Hayato New York International Academy".
2008年
Opened 4th branch in London
2009年
Renewal of New York branch
2012年
January: Renewal of Tokyo branch in Roppongi, Japan
April: Empire Beauty Academy will be started in Omote-sando.
2013年
April: I change the name of an academy name to "HAYATO Beside Academy" from "Empire Hair Academy".
2014年
April: Hayato Hakone Salon & Spa Resort Open
2015年
October: Hayato Beside Academy Harajuku open

---

― President ―
Hayato Tanoue

― Director ―
Koki Nakamori

― London Lecturer ―
Ryosuke Oishi

― Tokyo Lecturer ―
Taichi Suzuki

― Tokyo Lecturer ―
Hitomi Oogata

― Tokyo Lecturer ―
China Matsubara
 
 
Zoni/Zoni language Centers
The Zoni language center establishes five schools in New York as a place educating English (ESL) as the foreign language.
The main campus is located so that the center of Manhattan, Empire State building are adjacent.
Familiar scenery to let the area on foot realize Times Square others, world big city New York spreads.
The Zoni Manhattan campus may say that it is the greatest environment for a person wanting to be English learning.
---
HAYATO SALONS
I develop a hair salon in New York, Tokyo, London and 3 world big cities.
After having received the training of a technique, the language study at the NY head office more than two years, by the international upbringing program that HAYATO SALONS takes 20 years or more and made up, all staff makes their debut as a stylist.