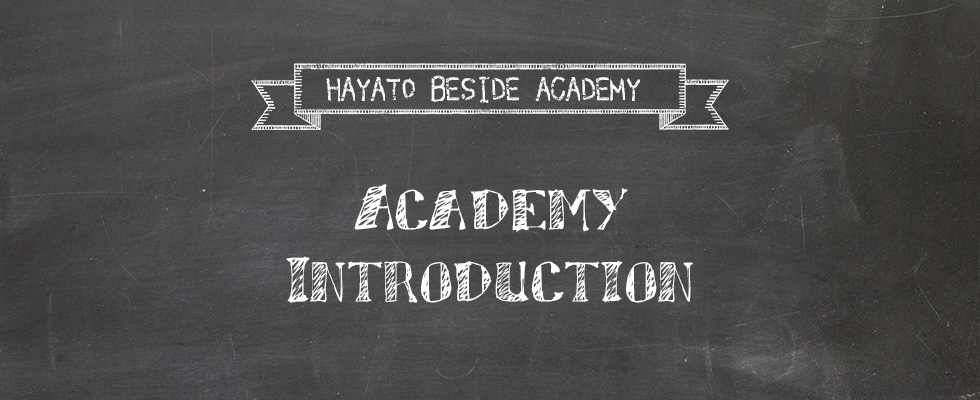 Bringing more Japanese stylists onto the world stage in the 21st Century
The Hayato Academy is open to current beauty school students or graduates, as well as stylists at the assistant level. The academy educates its students in a practical New-York style, and prepares them to be able to participate on the world stage.
---
Our class contents are flexible.
There is a regular class to learn professional techniques (one to four times per week), as well as an elective class where you can choose which techniques you want to study (12 sessions).
You can start right away on the Monday after you sign up.
We promise high-quality coaching in small classes.
---
We teach conversational English as well as styling techniques to help you be able to use your skills anywhere in the world.
| | |
| --- | --- |
| You will be taught techniques and instructed about customer service by stylists who have experience working in New York. Having practical experience will improve your skills at a faster rate. Most beauty schools do not provide this kind of practical training. Long periods of time spent as an assistant are an unfortunate reality of the beauty industry. We created the academy to help beauty school graduates who want to improve their skills and master high-quality techniques. In this day and age, being able to speak English to customers from around the world is also an important and necessary skill. We provide English conversation lessons matched to your individual language ability. | |

---
Hayato Academy's managing parent organization is Hayato Salons, with hair salons in the international cities of New York (head office), Tokyo, and London. We offer education to beauty school graduates who are looking to work at one of our salons, stylists who wish to improve their skills, and stylists who wish to work abroad. At our academy, we will provide you with the education you need to make your dreams as an international stylist a reality. Included in our curriculum, we have English conversation classes as well as practical training with hair models from all over the world. We also have classes available at our New York and London salons for students who wish to have experience working abroad. Our owner has cultivated a broad international network of connections as well as a deep knowledge of styling techniques. His main priority is contributing to the beauty industry by educating top-quality stylists on an international stage.
---
Profile
1987年
Served as the floor manager of Mr. Ahara's beauty salon located at Roppongi, Tokyo in Japan.
1989年
Left to New York and worked in a Japanese-American salon
1991年
Opened a private room salon "Hayato Beside"
1992年
Opened his first shop in New York
1994年
Changed the name of his salon "Hayato New York"
1996年
Opened 2nd branch at Nishi-azabu in Tokyo
1999年
Opened 3rd branch at Aoyama in Tokyo
2002年
New York branch became 2 floors (2nd & 3rd)
2005年
Opened "Hayato New York Tokyo Branch" that Nishi-azabu branch & Aoyama branch were combined together.  Opened "Hayato New York International Academy."
2008年
Opened 4th branch in London
2009年
Renewal of New York branch
2012年
January: Renewal of Tokyo branch in Roppongi, Japan
April: Empire Beauty Academy will be started in Omote-sando
2013年
April: Changed academy name from "Empire Hair Academy" to "Hayato Beside Academy"
2014年
April: Opened Hayato Hakone Salon & Spa Resort
2015年
October: Opened Hayato Beside Academy Harajuku

---

― President ―
Hayato Tanoue

― Director ―
Koki Nakamori

― London Lecturer ―
Ryosuke Oishi

― Tokyo Lecturer ―
Hitomi Oogata

― Tokyo Lecturer ―
China Matsubara
 
 
 
Zoni/Zoni Language Centers
Zoni Language Centers have established five schools in New York teaching English as a Foreign Language (ESL).
The main campus is located next to the Empire State Building in the center of Manhattan.
Within walking distance of Times Square, you can experience all New York has to offer.
The Zoni Language Center Manhattan campus is the perfect environment for someone looking to improve their English skills beyond what you thought possible.
---
HAYATO SALONS
We have hair salons in three of the world's biggest cities: New York, Tokyo, and London.
For more than 20 years, our unique educational program has created some of the best stylists in the world.  All of our stylists complete at least two years of technique and language training in New York.